Shark & Whales
1 Trip,
Day Tour
(Self Drive)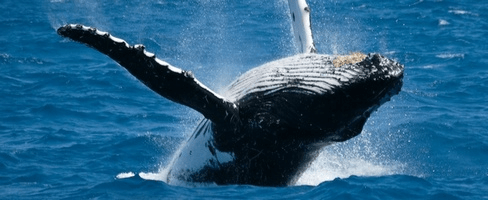 Child:
R1,900
Price Per Person
Adult:
R3,500
R3,200
Price Per Person
Take a scenic Self Drive tour along the coast of Cape Town and see some of the best marine wildlife South Africa has to offer with a combined Shark Cage Dive experience and Whale Watching Tour.
Dispel all those fears and myths and dive straight into White Shark Diving territory. There are very few things that can be compared to being within arms reach of a 3m Great White Shark as they cruise right by cage. This captivating encounter will definitely get your heart racing and leave you on a high for days.
Then get within 50m of a southern right whale. See these amazing gentle giants up close and personal as they make their way to the sheltered waters of South Africa from their feeding grounds in the Antarctic to mate, give birth, and nurse thier young. Watch as they sing their whale songs and dance to the beat of the waves, breaching, blowing and lob-tailing. A truly breathtaking experience.
The Shark Cage Dive and the Whale Wathing Tour can be done on 1 day or on 2 seperate days. Trips are run 7 days a week and are strictly weather dependent and subject to availability.
Shark Cage diving can be done by the whole family, no dive experience is necessary.
Find out more about the Trip