False Bay Morning Shark Cage Diving Cape Town
1 Trip,
Day Tour
(Incl. Transfer)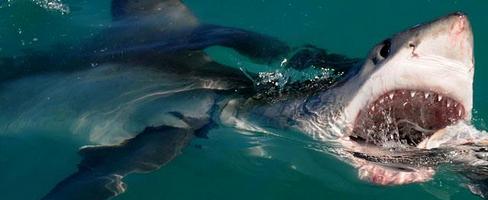 Adult:
R3,650
R3,600
Price Price
ZAR
Going Shark Cage Diving and actually seeing a Great White Shark up close and personal in its own natural environment is guaranteed to change your perspective for life.
Dispell all those "Jaws" myths & fears and make a date with a Great White Shark today! Great White Shark Cage Diving in False Bay is a definite must for all adrenaline junkies!
Watch as the Great White Shark propels itself clean out of the water in pursuit of the bait which is pulled away at the very last moment. It's an absolutely spectacular sight that you will never forget!
Then take the plunge and sink below the water to view these amazing animals, see them glide by within arm's reach of the cage.
Seal Island in False Bay (near Simon's Town) is where all the Shark Diving & Surface Viewing takes place and is well known around the globe for the many shark documentaries filmed here.
Don't forget to bring your camera as there is plenty of photo opportunities from above and below.
Trips are run 7 days a week and are strictly weather dependent and subject to availability. Make sure you book your trip well in advance to secure a place on the boat as spaces are extremely limited.
Morning Shark Cage Diving Trips are run from March to May.
Shark Sightings Update
Great White Shark sightings are unpredictable and cannot be guaranteed. We are currently seeing Copper Sharks (also known as Bronze Whaler Sharks), Cape Fur Seals and the occasional stingray.

3
Reviews
Find out more about the Trip