Cow Sharks & Cape Fur Seals
1 Trip,
Day Tour
(Self Drive)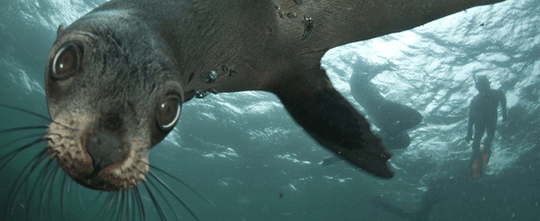 Adult:
R2,300
Price Price
Enjoy a fantastic day out diving with Cape Fur Seals & Seven Gill Cowsharks.
Nowhere else in the world can these rarely seen sharks be so easily accessed and seen than in False Bay. Seeing them is extremely special.
Found in some of the most spectacular shallow Kelp Forests in a Marine Protected reef area at 12m in depth, it's a must for any professional or amateur underwater photographer.
Close encounters are common as they are generally very inquisitive and tend to approach divers to get a closer look which means they swim right up to you and only turn away at the very last minute. Being social feeders, they group together (up to 18 at a time) which makes for an excellent experience.
Diving with seals is another must if you're visiting Cape Town.
Unlike above the water, where they are slow and awkward, seals are amazingly agile under the water.
So be prepare to be entertained by these beautiful animals as they play above and beneath the surface in and around scuba divers, making it an extremely memorable and enjoyable event.
Find out more about the Trip