Shark & Shoot Em Up
1 Trip,
2 Day Tour
(Incl. Transfer)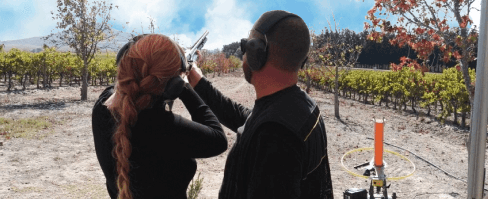 Minimum 2 people
Child:
POA
Price Per Person
Adult:
R4,100
Price Per Person
Go Shark Cage Diving in Gansbaai with the ultimate Apex Predator the Great White Shark and follow this up with the most fun you will ever have standing still... Clay Pigeon Shooting & AR-15 Gong Challenge.
Attempt to hit a spinning circle, duelling tree or 8 pin gong. Let our qualified instructors get you shooting those clay pigeons out of the air just like a Pro.
Sink beneath the surface within the safety of a cage and get up close and personal with a Great White Shark. This 2 day tour will have you reeling with adrenaline.
Shooting Trips are run Tuesday to Saturday and the Shark Cage Diving Trips 7 days a week subject to sea / weather conditions and availability. Advance bookings are essential.
No diving or shooting experience is necessary. Both tours can be enjoyed by the whole family.
Find out more about the Trip