False Bay Morning Shark Cage Diving Cape Town
1 Trip,
Day Tour
(Self Drive)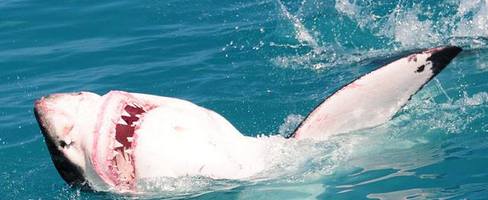 Adult:
R3,050
R2,950
Price Price
ZAR
Enjoy the adrenaline rush of being within "eye-balling" distance of a Great White Shark.
Sink beneath the water into Great White Shark territory and witness their sheer magnificence as they glide on by the cage.
Take on a new perspective and see for yourself how totally misunderstood these creatures can be. With our on board shark experts you will learn all about shark activity making this trip extremely educational and a fun filled day out!
Located some 30km south of Cape Town is Simon's Town. Seal Island is situated in False Bay and is where we do the Shark Cage Diving.
Local and foreign visitors flock from around the globe to see these amazing animals which as become world famous due to the many shark documentaries filmed here by National Geographic and Natural History Channel.
Trips are run 7 days a week and are strictly weather dependent and subject to availability. Make sure you book your trip well in advance to secure a place on the boat as spaces are extremely limited.
MorningTrips are run from March to May.
Shark Sightings Update
Great White Shark sightings are unpredictable and cannot be guaranteed. We are currently seeing Copper Sharks (also known as Bronze Whaler Sharks), Cape Fur Seals and the occasional stingray.

3
Reviews
Find out more about the Trip