Big 5 Safari & Sharks
1 Trip,
2 Day Tour
(Incl. Transfer)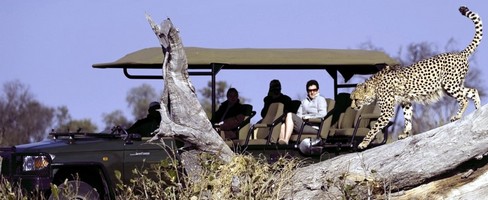 R500 Single Supplement
Child:
POA
Price Per Person
Adult:
R5,750
Price Per Person
Enjoy Shark Cage Diving and a Big 5 Game Safari all in just 2 Days.
Go from beneath the water where you can take your first glimpse of a Great White and experience their sheer intoxicating beauty as they cruise right by you within arm's reach of the cage, to above the water where you can see South Arica's Big 5, the lion, the leopard, Elephant, Rhino and Buffalo.
From the comfort of the safari vehicle or various lookout points dotted throughout the Reserve spot the majestic male Cape Barbary Lion, plentiful Zebra, myriad of buck including Wildebeest, Kudu, Eland and Oryx or the 15-strong herd of giraffe as they make their way across the 10 0000 hectare expanse known as the little Karoo.
If you're really lucky see the family of skittish meerkat, peering out from their burrows; the rare Bat-eared Fox rooting in the scrub for a juicy dung beetle or even a cheetah or two being walked around the game lodge by their handlers.
The Day Tours can be taken either back-to-back or on seperate days. Trips are run 7 days a week and are strictly weather dependent and subject to availability.
Shark Cage diving can be done by the whole family, no dive experience is necessary.
Find out more about the Trip