Blue & Mako Shark Dive
1 Trip,
Day Tour
(Self Drive)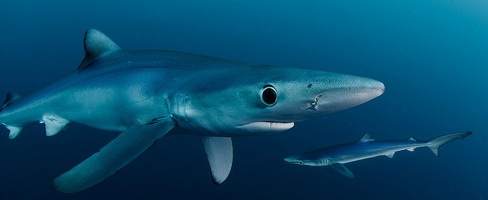 Adult:
R3,795
R3,650
Price Price
Blue & Mako Shark Diving in Cape Town is not for the faint hearted, but for those of you who love an adrenaline rush, this experience will not disappoint.
Get up close and personal with arguably one of the prettiest deep sea ocean predators, the Blue Shark and one of the fastest fish in the world, the Mako.
Blue and Mako Sharks are very curious and extraordinary animals. They can often come up very close to you, sometimes bumping into you or your camera.
It is therefore imperative that you are comfortable with close encounters with a bold animal as well swimming in the open ocean.
Pelagic sharks are not always easy to find. This means that some chumming is involved to draw the them out to the diving location. They can also be very skittish and therefore encounters may be short.
You don't need to be a certified diver to dive with these sharks, but you must be in good physical condition. Swimming and snorkelling skills are important, as you will be snorkelling if you are not a certified scuba diver.
Find out more about the Trip