Shark Cage Diving, Breaching & Natural Predation
1 Trip,
Day Tour
(Self Drive)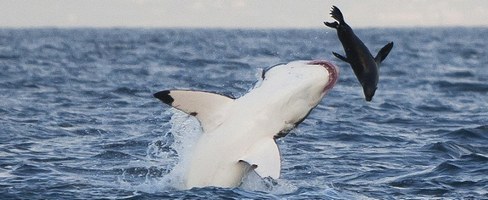 Adult:
R3,950
R3,650
Price Price
Witness the spectacular phenomenon of great white shark breaching in South Africa A.K.A "Flying Sharks".
Seal Island in False Bay is located 30km south of Cape Town and is by far one of the best places in the world to see this highly unusual behaviour. Occurring here with more frequency than anywhere else, it's an experience not to be missed.
Shark Breaching is a form of the hunting technique that the great white shark uses to surprise and kill its prey. They surface with such force and explosive energy that it propels the shark right out of the water.
An unforgettable sight and great photo opportunity, if you are able to capture the moment.
The Shark Cage Diving, Breaching and Natural Predation / Air Jaws Morning Trips are run 7 days a week May to mid September and is strictly weather dependent and subject to availability.
Early mornings is also when the great white's natural predatory interaction with the Cape Fur seal is at its most intense, so we recommened that you book this tour well in advance (2 - 3 weeks) to secure your seat on the boat.
Return Transfers from central Cape Town can be arranged upon request. Cost: R600.00 per person, minimum 2 passengers.
Find out more about the Trip